"Wander Away" Video Premiere - Bluegrass Situation
"'Wander Away' is coming out at a time when mental health is really on people's minds. More than ever, it seems we are looking for healing — one way or another. This tune delves into the trenches here, and resolves with the idea of fixing your eyes on 'a thing far more glorious' which for us, is a reference to God's healing love."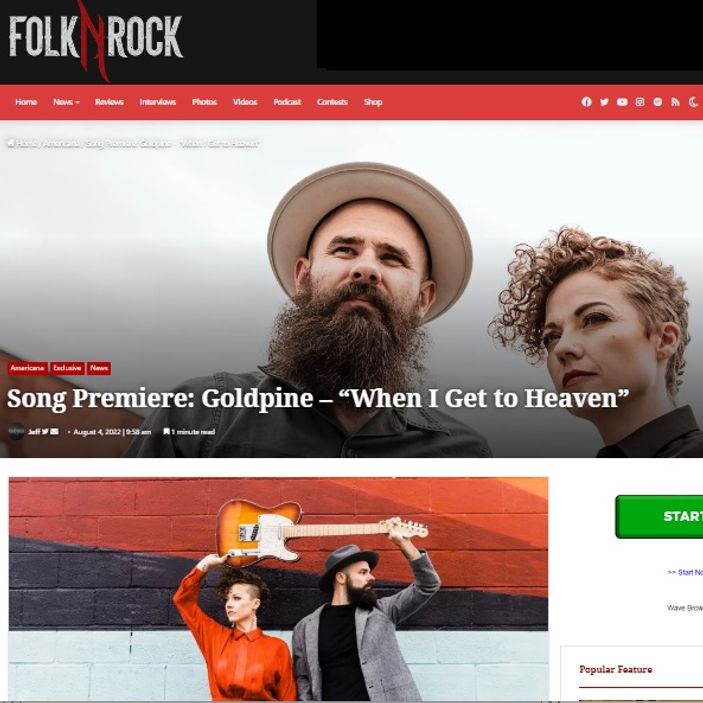 Folk N Rock Premieres "When I Get to Heaven"
"The track 'When I get to Heaven' starts off as a folksy toe-tapper, but quickly turns into a soulful hand clapping sing-along anthem.  The song is set to officially be released tomorrow, August 5th."
Americana Highways Premieres "Wander Away"
"Goldpine is folksy and falls within the Americana genre but their musical arrangements are very innovative and eclectic.  'Tell 'em how you feel, say it all out loud,' is good advice and there's a lot of love in this song too." 
Goldpine on The Dr. Ward Bond Show
Ear To The Ground
"There's a sincerity to this track that emerges immediately. The easy comparison for Goldpine is the folk duo Shovels and Rope. There's a similar vibe between the two bands that carries over a somewhat rowdy folk energy with rich harmonies. "
Goldpine: Outsider-Approved New Albums
"I'm just going to come out and say it, August has been an incredible month for new music."
Nagamag on "Wander Away"
"Excellent vocal duet in the acoustic accompaniment of Indie Rock. It's time to drive in your memoirs, hoping to find the warmest and kindest of them and this melody is an ideal way to relax both alone and in the circle of your family."
Roadie Music On "Wander Away"
"The duo Goldpine arrives with such a striking composition that it becomes impossible to listen to it only once.
Wander Away has a folk-oriented vibe, but with some elements of indie music in its fantastic instrumental performance, facing the more acoustic side, where arrangements give a special color to the theme that has vocals in the melodies filled with a lot of harmony, and that show the competence and originality of this work."
The Country Note - "Wander Away"
Accompanied by a film-inspired lyric video that serves as a wholesome introduction to the married couple; the track begins with a soft picking guitar, alongside Ben & Kassie's unmistakable harmonies, leading up to a fuller sound that showcases Kassie's powerhouse of a voice.